Click here to view Map as a PDF
The Map is the Master Plan for Sanctuary Lakes Resort at October 2010. There are a few details missing but most lot numbers are shown which enables lots to be located and Owners Corporations to be identified. Errors include:
Lot M has been omitted
Lot numbers are not provided for Stage 7C - South Shore Gardens
Lot numbers are not provided for the lots on the western side of Skyward Drive in Stage 11
The Skyward Wetlands are NOT included in Sanctuary Lakes Resort. The boundary is incorrectly shown.
Recreation Facilities: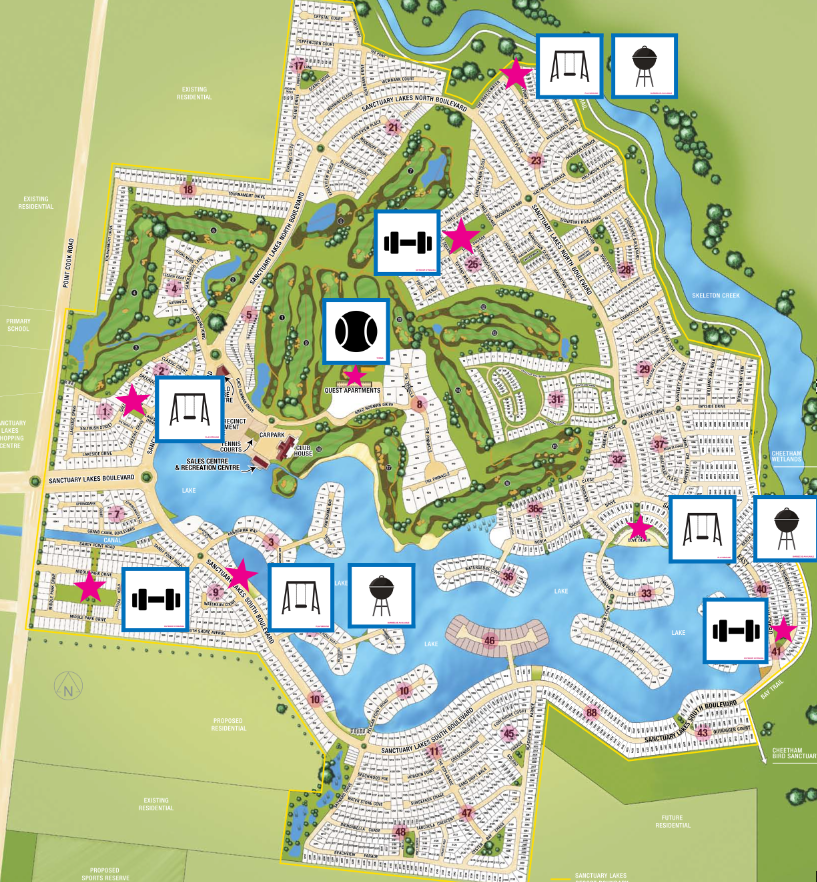 Barbecue Areas
- Adventure Playground, on the corner of The Breezewater and Freshwater Point
- Rob Partington Reserve on Sanctuary Lakes Boulevard South (opposite Watersun Court)
- Regatta Cove Reserve on North Shore Drive

Playground Areas
- St Andrews Park in Gallery Place
- Adventure Playground, on the corner of The Breezewater and Freshwater Point
- Rob Partington Reserve on Sanctuary Lakes Boulevard South (opposite Watersun Court)
- Regatta Cove Reserve on North Shore Drive
Outdoor Gymnasia
- Times Square Park near the corner of Rockefeller Way
- South Shore Gardens Park in Middle Park Drive
- Skyline Park at the corner of Sanctuary Lakes East Boulevard and Coastal Promenade
Tennis Courts
- Located at the edge of the Golf Course near the Driving Range. Bookings can be made by calling the Recreation Club on
(03) 9394 9430